Jamie Shovlin is a conceptual artist who is interested in exploring the tension between truth and fiction. His interventions frequently challenge the viewer to question or re-think their understanding of reality. Through his projects, Shovlin questions how information becomes authoritative and explores the way that we map and classify the world in order to understand it. His painstakingly researched and executed works merge inherently flawed systems, pseudo-scientific exactitude and doubtful philosophical propositions with the seemingly objective experience of the archive.
Naomi V Jelish (2004)
Jamie Shovlin's first solo exhibition at the Riflemaker Gallery in 2004 was based on what he claimed were the drawings of schoolgirl Naomi V Jelish, who had shown a great aptitude for art but mysteriously disappeared in 1991, together with her mother and her four siblings. Her tragic life story is explained to visitors by means of newspaper cuttings, photographs, school reports and personal memorabilia that apparently support his claim. A book accompanying the exhibition explained that the drawings were recovered from the family's abandoned house in Gravesend by the late John Ivesmail, a science teacher at Naomi's school who had befriended the family.
The work was bought by Charles Saatchi, who only realised it was a hoax halfway through the exhibition when he noticed that both the girl's name and that of her teacher were anagrams of Jamie Shovlin. Shovlin explained that he had produced the installation "to test the boundaries of ambiguity". He claims that the main function of such hoaxes is not simply to fool viewers, but to let them gradually realise that they are being tricked, and encourage them to question their preconceptions.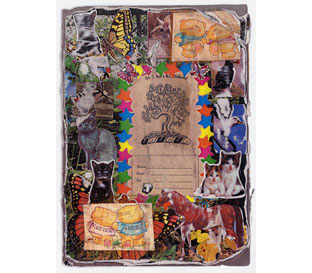 In Search of Perfect Harmony (2006)
Shown at Tate Britain, the installation In Search of Perfect Harmony took nature as its theme and brings together drawings, collage, text, sound recording and projection. With its dark green walls, mahogany-framed exhibits and archival boxes, the display recalled the cabinet of curiosities one might encounter in a local museum. Shovlin juxtaposed his mother's subjective view of the wildlife in her suburban garden with the scientific rigour of Charles Darwin's theory of natural selection. Shovlin, who is Interested in how museums are organised and often evolve from diverse, personal collections, opposed an individual voice with an institutional point of view, contrasting localised knowledge with something much more global.
His painstakingly researched and executed works combined idiosyncratic methodologies, pseudo-scientific exactitude and personal observations with the seemingly objective experience of the museum collection. Layers of information and imagery placed objects, people and ideas into new contexts. By using conventional models of presentation like the archive and scientific writings, Shovlin questioned how certain types of information come to be seen as authoritative. His work explored the way that individuals and organisations map and classify the world in order to understand it.
For information about some of Jamie Shovlin's other projects, please click here.
Sources
http://www.saatchigallery.com/artists/jamie_shovlin.htm
http://www.tate.org.uk/whats-on/tate-britain/exhibition/art-now-jamie-shovlin
http://waterside-contemporary.com/artists/jamie-shovlin/
Further reading
Michael Bracewell and Ben Tufnell, Jamie Shovlin: A Dream Deferred (Art), Haunch of Venison, 2007.
Martin Holman, Jamie Shovlin: Various Arrangements, Haunch of Venison, 2012.
Jamie Shovlin, Naomi V Jelish: an exhibition curated by John Ivesmail, Riflemaker Press, 2004.
Rachel Tant, Jamie Shovlin: Art Now, Tate Britain: London, 2006.