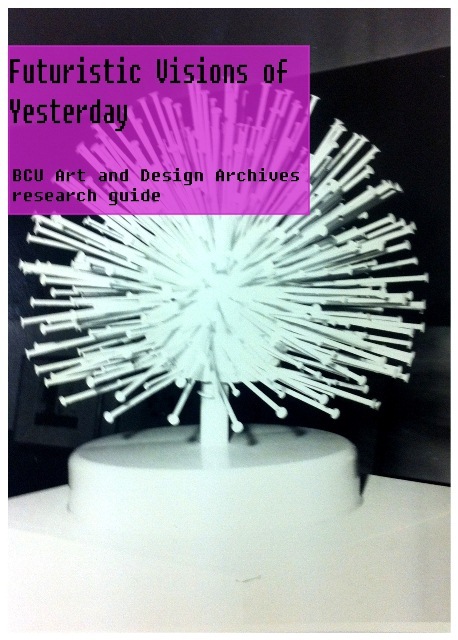 Guther Uecker, abstract sculpture, 1966, b/w photograph, Contemporary Art Society
Sculpture Exhibition, Archive's code: SA/AT/26/48/10
This guide provides an introduction to the Birmingham City University Art and Design
Archives collection highlighting the number of sources waiting to be discovered and used in
art and curatorial practices, as well as placing artworks in a wider artistic and historical
context. The guide aims to encourage students to discover more. It may also be treated as
an example of a curatorial investigation leading to formulate topics for potential exhibition.
Futuristic Visions of Yesterday is a guide, which presents findings from a three-month
research period in the archives undertaken by Roma Piotrowska, a Contemporary Curatorial
Practice student. This project took place in 2012 as part of the Student Academic Partner
scheme. During this period Roma browsed through a section of the eleven different archives
and collections within the Archive, looking for interesting topics, that she could potentially
use to curate an exhibition. Her research has been narrowed down to artworks made
between the beginning of the 20th century and the 1980s. Finally she has distinguished a
theme Futuristic Visions of Yesterday that is repeatedly visible in one of the collections - BIAD
School of Art collection.
Futuristic Visions of Yesterday is an introduction to some of the drawings as well as fashion,
interior and object designs that pertain to a futuristic aesthetic and have been rediscovered
in the BIAD School of Art collection. Since the 19th century we have witnessed the rise of
visual representations that are commonly seen as 'futuristic'. The way the future was
imagined in previous decades can be an important source of knowledge about the past.
The guide starts in the 1930s, and goes through the 1950s presenting works that can be
linked with futurism, the art movement. It goes further to the 1960s and 1970s when interest
in the future was characteristic to the Cold War era (1945-70) and the future gained political
connotations due to the space race. The Cold War had a huge impact on popular culture
and the way of thinking about the future on both sides of the Iron Curtain. In other words,
the sixties was the decade when artists and designers were highly influenced by space
exploration and indeed most of the 'futuristic' designs found in the Archives are from this
period of time.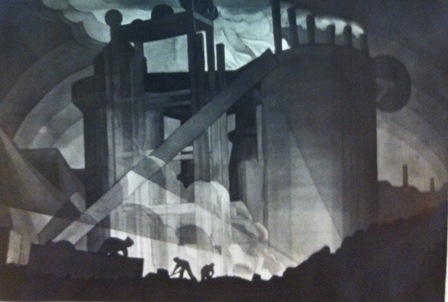 Ralph G Baxendale, print of large industrial plant, 1931
Archive's code: SA/AT/26/16/15
An artefact found in the Archives is a print of large industrial plant prepared by Ralph
G. Baxendale from 1931, which fits into the futuristic aesthetic of the beginning of
the 20th century. Futurism was fascinated by industry, technology, dynamism, energy
and movement and all these elements are visible in the drawings. The factory is
depicted at night, lit up by reflectors with black silhouettes of workers visible in the
foreground. Presented forms are almost abstract, but still refer to reality. It is quite a
radical vision of architecture for that time and proves the author's interest in
modernist art movements. Visual correspondence to the scenes from Metropolis
(1927), science-fiction film directed by Fritz Lang, is recognisable.
See Metropolis' Factory Scene here: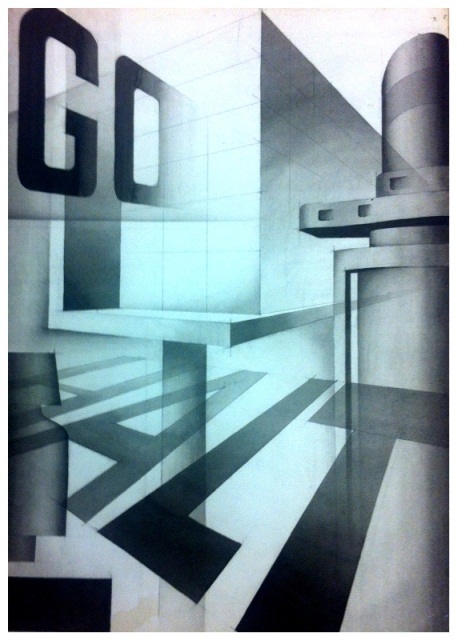 John D. Mc Cann, watercolour and pencil on paper, 1955
Archive's code: SA/AT/16/34/31
Another radical vision of architecture represented by a monochrome painting of a modernist
streetscape with GO and HALT signs. The painting is characterised by geometrical, simple
forms, strong diagonals and interlocking forms favoured by Constructivism. A combination
of widening letters and shapes resembles constructivist posters, with its directness of
messages. The Painting was prepared by John D. Mc Cann, one of the students of influential
B.P. Arnold, who taught industrial Design and photography in the School until the early
1960s. His influence and style is present in many other works prepared by various students
(i.e. Monochrome painting of detail form industrial machinery SA/AT/16/34/25; Monochrome
painting of a flight of stairs SA/AT/16/34/29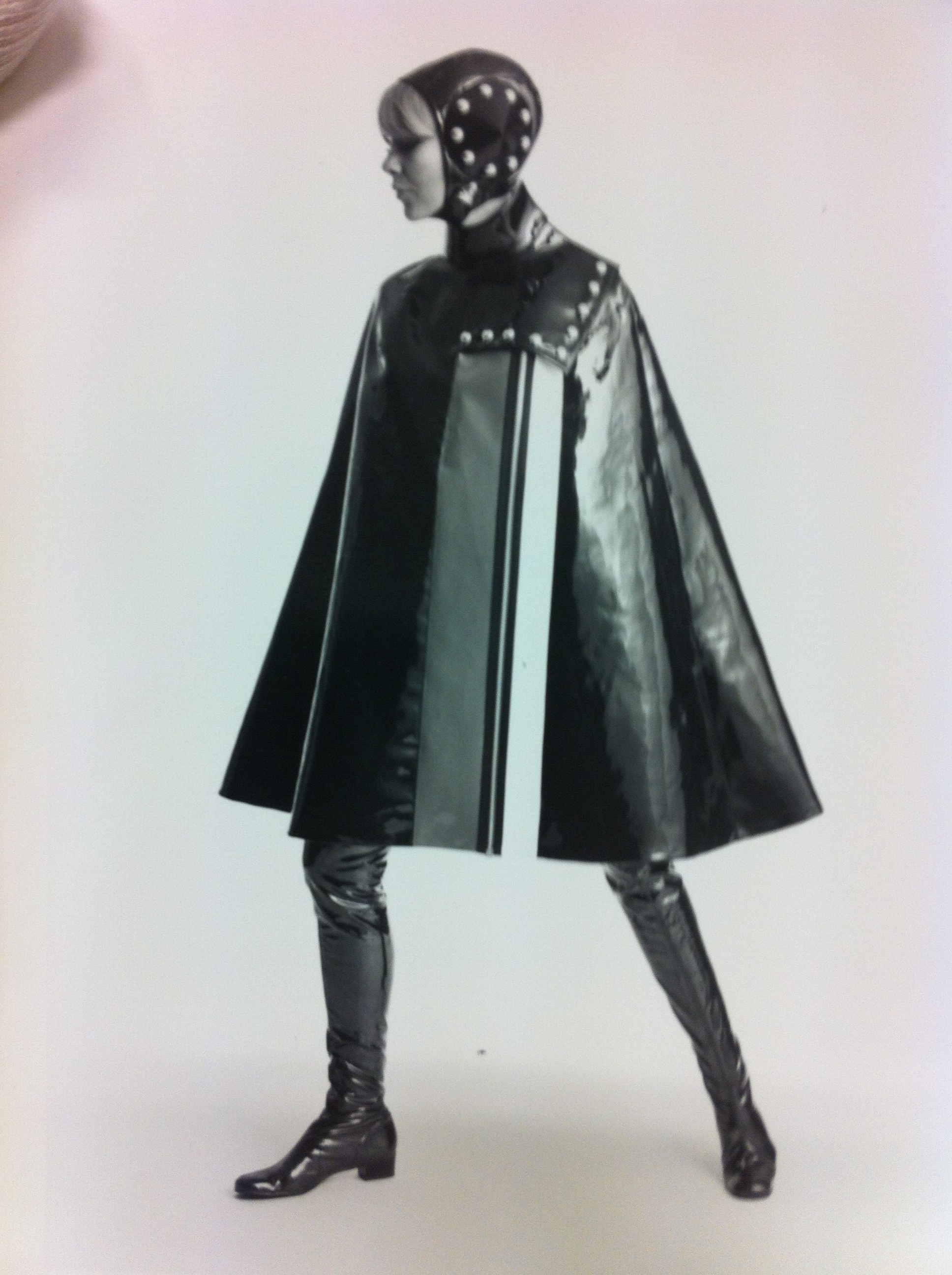 Photograph of young women in PVC cape and thigh-length boots, designer unknown,
1963-69
Archive's code: SA/AT/26/12/26
This photograph of young women in a PVC cape and go-go boots is one of the examples of
using synthetic materials typical for the 1960s. The Space Race introduced many
technological innovations and material developments that could be used in everyday life.
Designers started to experiment with a variety of materials like plastic, metal and leather, as
well as with shapes. Despite a remarkable optimism and believe in a bright future, the
fashion of the 1960s disclose a concern to protect the wearer, possibly against a nuclear
attack. Therefore helmet-like headgear and military plating present in this design.
Photograph of young woman in short raincoat with a hood and ankle - length boots,
designer unknown, 1963-69
Archive's code: SA/AT/26/12/30
This photograph of a young woman in a short PVC raincoat with a hood, wide belt, metallic
plating and ankle - length boots represents the typical Space Age 'look'. PVC, type of plastic
used to produce shower curtains and raincoats, in the 1960s started to be used in high
fashion. The design demonstrates concern to armour the body through headwear and metal
breastplates.
See a short clip showing futuristic fashion of the 1960's from designers like Pierre Cardin,
André Courrèges, Paco Rabanne:
Photograph of a ladies outfit, designer unknown, 1960-69
Archive's code: SA/AT/22/03/39
Above photograph shows a lady wearing a knee-length coat with a high sculptural metallic
collar and a pointed hat, which gives evidence of the 1960s interest in juxtaposition of soft
skin and hard metal. It demonstrates a desire to make something beyond fashion, towards
architecture or sculpture.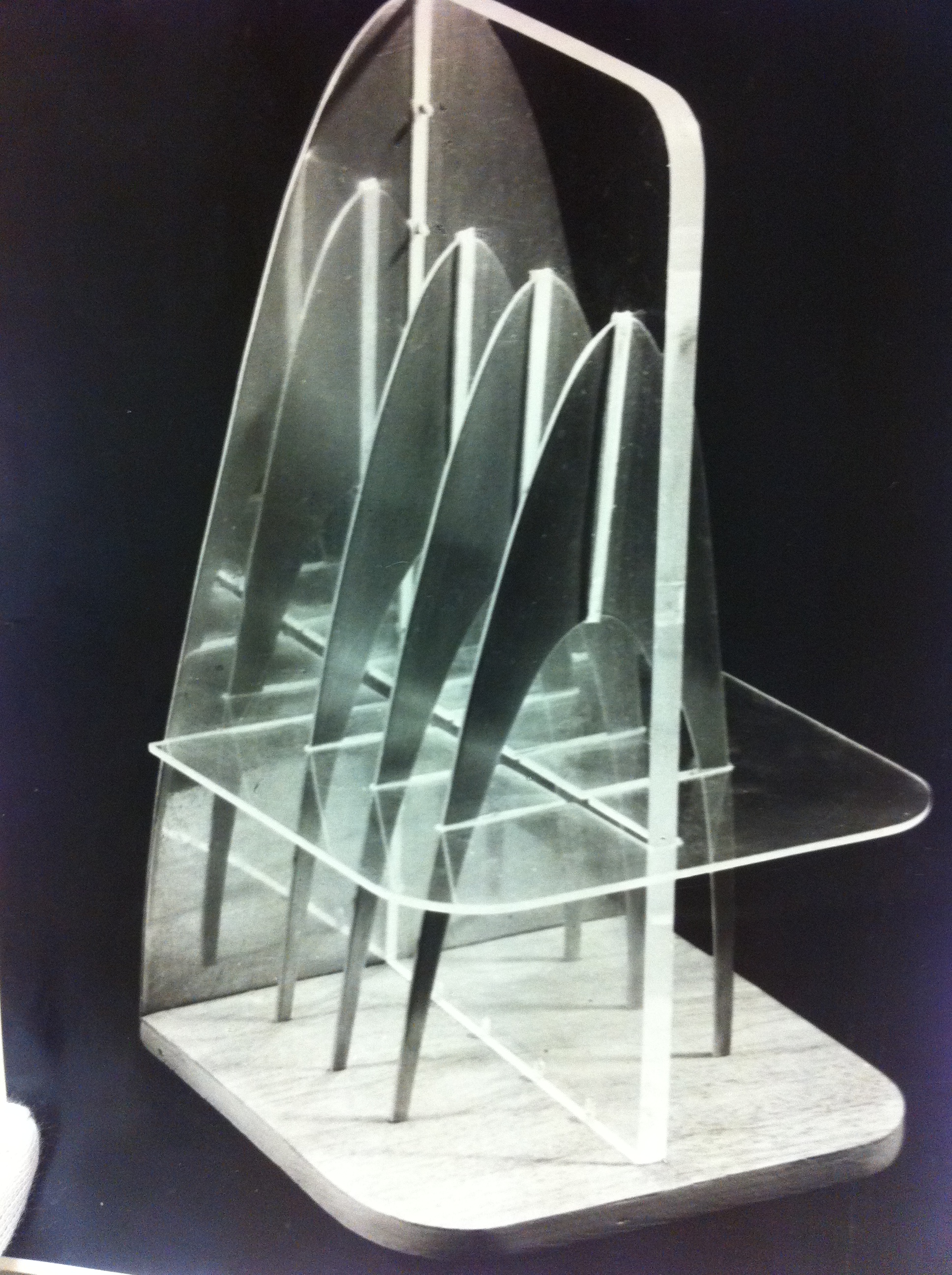 Photograph of three dimensional form in plywood, Perspex and aluminium designed
by Roy Appleby, 1955-1960
Archive's code: SA/AT/26/20/8
This spaceship-like object, in fact probably a toast rack, was created by one of the industrial
design students Roy Appleby.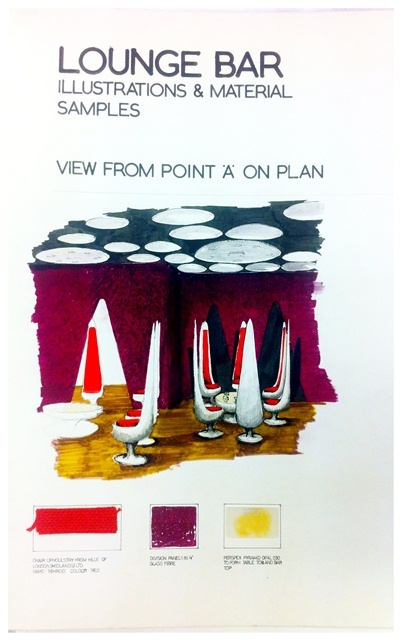 G.L. Evans, Designs for a public bar, acrylic paint and ink on card, 1967-1970
Archive's code: SA/AT/24/01/42
This design is a perfect example of a Space- Age interior, with vibrant colours: bright red,
red-violet, mustard yellow, black and white. Shapes became more organic and graphic. In
this design elongated chairs, and archways, contrast with circular ceiling panels. New
materials like plastic, fiberglass and Perspex started to be popular in manufacturing furniture
in the 1960s. In the above design fibreglass is proposed to be used to produce chairs, tables,
lamps and even wall panels. It was prepared by G.L. Evans a 20 year-old student of
Birmingham College of Art & Design, for an Industrial Design Bursary Competition,
organised by the Royal Society of Artists.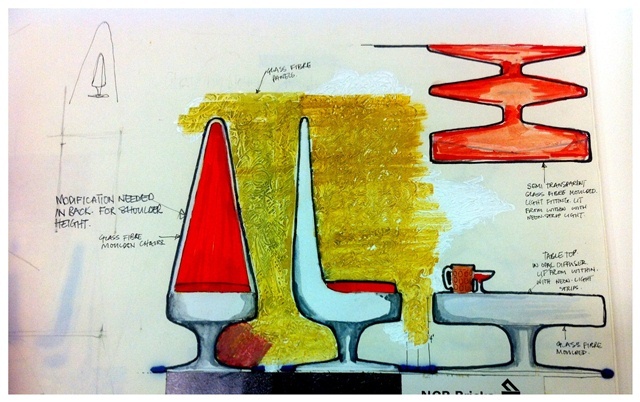 G.L. Evans, Designs for longue bar seating, 1967-70, acrylic paint, ink and pencil on
paper, fragment of rough design drawings and painted sketches on 5 sheets stapled
together
Archive's code: SA/AT/24/01/43
The drawings show the evolution of designs for fibreglass formed furniture. Almost
everything is proposed to be made from fibreglass in this design: from chairs, through table,
lamp, to walls. Fiberglass, originally used in the production of radars, became a popular
material for everyday design in the 1960s. The chair resembles 1960s classic Ovalia Egg Chair
designed by Henrik Thor-Larsen or Eero Aarino Ball Chair which were also made from
fibreglass, painted white with rotating foot, contrasting cushions and the back.
Written by Roma Piotrowska, 2012
Further reading
Breward Christopher, Gilbert David, Lister Jenny (2006) Swinging Sixties, London: V&A
Publishing
Hanks, David (2010), The Century of Modern Design: Selections from the Liliane and David M.
Stewart Collection, London: Flammarion
Pavitt, Jane (2008) Fear and Fashion in the Cold War, London: V&A Publishing
Pavitt, Jane, Crowley David (2008) Cold War Modern: Design 1945 – 70, London: V&A
Publishing
Worsley, Harriet (2006) Decades of Fashion, London: Tashen
Every effort has been made to seek permission to reproduce those images whose copyrights
does not reside with Birmingham City University Art and Design Archives. Any omissions are
entirely unintentional, and if you have any objection or claim to usage rights of images
reproduced of this guide please contact Birmingham City University Art and Design Archives.
Contact us:
Birmingham City University Art and Design Archives
Margaret Street
Birmingham
B3 3BX
Telephone: +44 (0)121 331 6981