Congratulations are due to MA Fine Art student Stuart Mugridge for his fascinating contribution to last week's Art-Based Masters degree show at Margaret Street.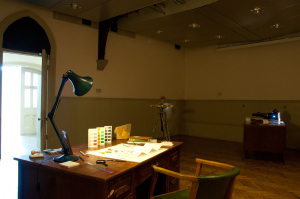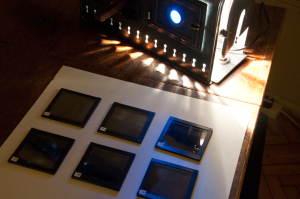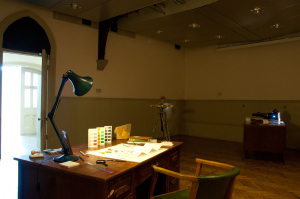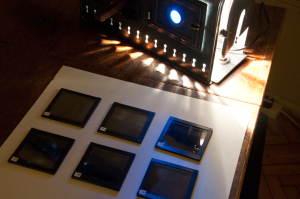 Private Room took its name from the labelling of Room F.05 in the 1908-9 prospectus for the School of Art that Stuart found when he visited our Archives in November 2012. The installation included a display of magic lantern slides by means of the kind of equipment that would have been used for illustrated lectures in the School of Art c.1900. A collection of these can be seen at Winterbourne House, built in 1903 for John Nettlefold and his wife Margaret (née Chamberlain), who was a former student of the School of Art (1890-91).
As you can see from his blog of the two years he spent working towards his MA, Stuart has undertaken a considerable amount of research into the history of the Margaret Street building and the people who shaped it. Creating his work for the final degree show required visits to a number of different libraries and archives as well as our own.The blog includes several black and white photographs of classes taken at the beginning of the twentieth century that he found in the Archives as well as references to two of our minute books. We're sorry if the temporary closure of the Archives for the move to Parkside made his work more difficult, but it all seems to have paid off in the end!
For further information about Stuart's work, please click here.
I'll just finish with a note to remind everyone that the Archives are now fully open again, and you're very welcome to come and have a look at the School of Art's historical collections.