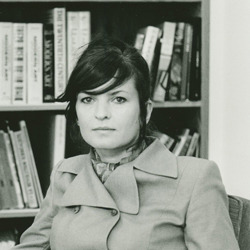 B.1967, Poland, lives and works in London
Goshka Macuga's works are not easy to read. They are very often large – scale and composed of several components. Thus, they require a significant dose of viewer's involvement through exploration and related texts reading in order to understand all the layers of meaning. Before the artist realizes her work she examines archives for months in order to reveal fascinating stories. She uses curatorial strategies in her art practice by displaying works of other artists, or creating museum cabinets containing artefacts. According to Eleanor Nairne, an independent researcher, Macuga is a 'story-teller' and her works often relate to the history of art, as a starting point to wider considerations (1). For the Bloomberg Commission in Whitechapel Gallery Macuga researched a hundred years of the gallery's history, browsing through the archives, reading exhibitions' pamphlets, press cuts and photos. Immersed in the yellowed papers, she dug to the fascinating history associated with the presentation of Guernica in Whitechapel Gallery in 1939. Interested in Picasso's show Macuga researched the other related to Guernica stories, which she included in her artwork. The main part of the installation is designed to look like a UN hall with a round table and leather armchairs, where the replica of Picasso's image is permanently displayed. The round table reminds a museum display cabinet, filled in with various documents, including those found in the Whitechapel gallery archives. The room was designed to provoke a round-table discussion about the vast range of political issues, which can be associated directly or indirectly with Guernica: from the Spanish Civil War, through the Second World War, the Cold War, the Vietnam War, to the "war with terrorism".
(1) Unpublished lecture by Eleanor Nairne on The Bloomberg Commission: Goshka Macuga: The Nature of the Beast, Whitechapel Gallery, the 16th of April 2009.
Goshka Macuga,
The Nature of the Beast,
exhibition view, Whitechapel Gallery, London
Further Reading
Goshka Macuga. The Nature of the Beast. Guernica, Exhibition catalogue, Whitechapel Gallery, London 2009.
Images
Images in order of appearance:
Portrait of Goshka Macuga
http://www.saatchi-gallery.co.uk/artists/goshka_macuga.htm
Goshka Macuga, The Nature of the Beast, exhibition view, Whitechapel Gallery, Londyn, 5.04.2009-18.04.2010.