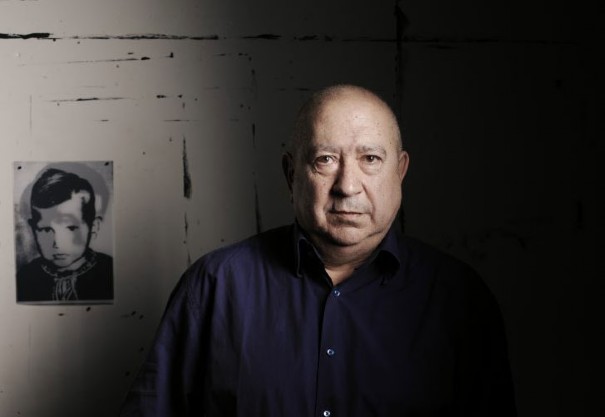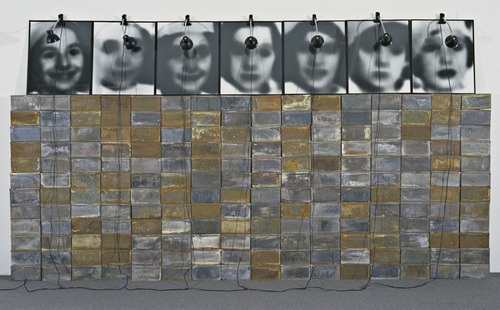 The Store House
Christian Boltanski's The Store House, 1988 present's viewers with a series of seven large scale monochrome photographic portraits of young girls; resting on a stack of aged un-labelled tin boxes, within which Boltanski placed selected scraps of fabric. Above each photograph hangs an electrical light, illuminating each portrait in the manner of a devotional shrine. The matured appearance of the tin storage compartments intentionally evokes archival or reliquary boxes whose content is to be respected, important for either its sentimental or historical value.
Boltanski actively employs the language of archiving and documentation in The Store House to create a deception. The installation presents itself as a memorial and yet the memory itself is never explicit; Boltanski conjures the appearance of an authentic experience whilst actively deceiving the viewer.
The truth of The Store House is that each portrait presented is in fact that of an anonymous child, taken from magazines and newspapers, not the implied victims of genocide or tragic circumstances; the tin boxes are in fact aged by process, not time and the scraps of material that fills each container holds no specific importance. Boltanski highlights and questions the power recognisable methods of cataloguing can have in authenticating presented information as factual.
Les Archives du Coeur, The Heart Archive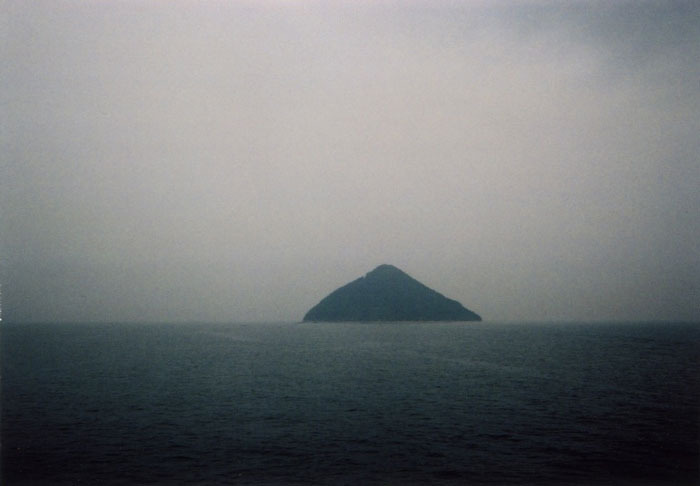 Consisting of an ever expanding heartbeat library The Heart Archive took shape as a project in 2005 when Boltanski was invited to create a work around the uninhabited Japanese Island of Teshima. Boltanski's interest in collecting heartbeats had started as an experiment, a natural development of his ongoing fascination with loss and memorial.
'the first idea was a little bit like a joke—I made a piece, I think, five years ago with my own heartbeats, and I thought this time it would be good not to have a photo album, but a heartbeats album, that it would be possible to go home and say, oh, I'm going to hear my grandmother tonight. And after that, I decided to collect heartbeats' Christian Boltanski
Since then the project has expanded visiting many major cities around the world including London (Serpentine Gallery, 2010) recording volunteer's heartbeats which will eventually be housed in a purpose built museum on the island of Teshima, an everlasting memorial of life and reminder of death.
'What is important is to make the struggle. It is to go to this island—and it is very difficult to go there—and during the travel, you can think about the person whose heartbeat you are going to hear. It's not to hear most of the heartbeats, which mostly are the same, but what is important is to think about the person, and to know that the heartbeat of your grandmother is there, or your own heartbeat is there.'
The IHME Contemporary Art Festival 2012 (March 23rd – 2nd April) in Finland will be the next venue to house Boltanski's heart beat recording booth.
Les Vies Possibles de Christian Boltanski
A short excerpt from the film Les Vies possibles de Christian Boltanski featuring the artist reflecting on his practice as well as showing volunteers having their heart beats recorded for The Heart Archive.
Further Reading
Grenier, Catherine. Boltanski. Paris: Flammarion, 2010
Gumpert, Lynn. Christian Boltanski. Paris: Flammarion, 1994
Boltanski, Christian. Boltanski: time. Ostfildern: Hatje Cantz; Maidstone: Amalgamated Book Services, 2006
Boltanski, Christian; Grenier, Catherine. The possible life of Christian Boltanski. Boston, Mass: Museum of Fine Arts, 2009
Klein, William. Contacts, 3, La photographie conceptuelle. DVD, France: Arte, 2008
Links
Christian Boltanski Collection at Centre Pompidou:
http://www.centrepompidou.fr/education/ressources/ENS-boltanski_en/ENS-boltanski_en.htm
Christian Boltanski collection at MoMA
http://www.moma.org/collection/artist.php?artist_id=649
Christina Boltanski in conversation with Sarah Rosenbaum-Kranson for MUSEO magazine:
http://www.museomagazine.com/802500/CHRISTIAN-BOLTANSKI
Images
Images in order of appearance:
Portrait of Christian Boltanski, 2011
http://www.lexpress.fr/culture/art/boltanski-etre-artiste-c-est-utiliser-ses-propres-angoisses_841605.html
The Store House, 1988
http://www.moma.org/collection/browse_results.php?criteria=O%3AAD%3AE%3A649&page_number=2&template_id=1&sort_order=1
Photograph of the Island of Teshima, Japan